I received my new Bosch machine and am thrilled with it! I made over-night cinnamon rolls in it last night and they are baking right now for breakfast. What could be better?!! Go here to get the free recipe download from MarmeeDear.com She has a wonderful site, plus you can purchase your Bosch from her as well as lots of other wonderful products. Super nice lady - she's a joy to work with! Here's a picture of my beautiful rolls as they came out of the oven. I will frost them with some of my glaze and they will be delicious!! Yummm!!!!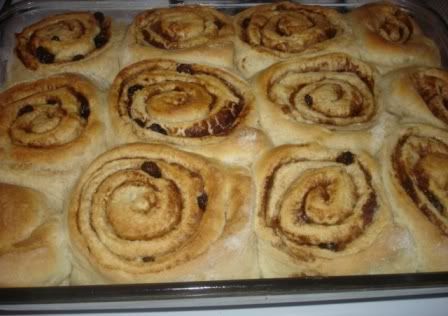 This recipe made two huge pans like this so I'm going to share some with my in-laws. I'm thinking I might take these to my Ladies Bible Study this week, too, as it's my turn to bring snacks. They would be good snacks!! LOL

Later . . . the cinnamon rolls were delicious!! I have never made them with wheat flour before and was unsure about it, but they were really good. In fact, my family liked them better than the ones I used to make, so that's what's important, right?

We're on our way to church so will be back with more news later. Have a blessed Lord's day!!