Well - here they are! The cards I made for my hubby for his clients.



I finished them up last night and I am so glad to be done with it! They came out pretty cute, though, I think. Here's a closeup of the card and the envelope.

Did you notice the "anchors" in the corners? Guess what those are? They are colored staples! Oh my goodness, they make it SO easy to add a little something to the card. I had started out punching holes in the four corners and adding brads. I knew that was going to take forever and I didn't have enough blue brads anyway. Finally, the light bulb went off and I remembered my colored staples. I think they look very cute!

Now I just need to do a newsletter to go with them and I'll be done. I did the roller stamping on the envelope and will do the same on the top of the newsletter. My hubby was very appreciative and I am glad I'm able to do these things for him. I actually have enough fronts left to make some cards for friends. I make up gift packs with an assortment of cards in them to give out as gifts to my friends and my children's music teachers. This gave me a good start on those projects. I'm going to try and start on the cards today for my gift packs. They will be more fun because instead of making 50 plus of one card, I'll only make about a dozen of each one. Variety is the spice of card making, in my opinion.

Later . . .I got the newsletter done and printed. I'm so glad that's done! With the help of my youngest son, we got all the newsletter folded and put inside the cards and then into the envelopes. All cards are addressed and ready for mailing in the morning! I'm really glad it's all done and it made my hubby very happy! He had me put a little blurb in the newsletter about my cards and that I would take orders. I know I probably won't get any, but it was nice of him to have me do that.

Look at this -

Isn't this the most gorgeous thing? Here's another picture to give you an idea of how truly large it is!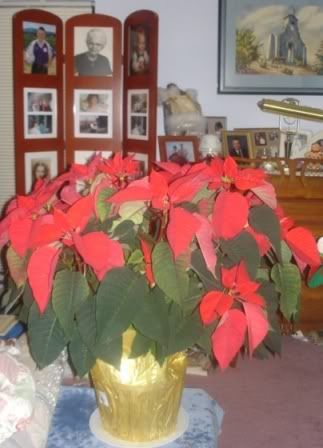 Hubby bought me this at Costco last week and I'm just so thrilled. I've always wanted a huge Poinsettia and these were such a good price and so beautiful, even he couldn't resist! They were only $14.95 and I'm telling you, they are worth every cent! I intend to keep it forever and even if I can never get it to bloom again, it will make a beautiful house plant!

I have found a treasure on the web for those of us who crochet! You can go to this link Annie's Attic and get a FREE pattern every day! I have found some really great patterns there! You can also go here and get a free pattern every week! Right now there is a beautiful Noel Centerpiece doily you can crochet. I'm telling you - we'll never be at a want for projects.

If you see projects on the sites designed by Nanette Seale, that's my son's friend's Mom! I've known her for years and years and she does really beautiful projects. The amazing thing is she can design really crafty type crochet projects as well as gorgeous doilies and other thread projects.

I have my jammies on and am ready for bed. Tomorrow is my busy day with my son and his music lessons and so forth, so off I go to beddie bye!