I've been crocheting again. I had put it aside for a few weeks to work on some counted cross stitch, but my crochet hook and I just can't be separated for very long! I decided to finish up a project that I started about the time I started homeschooling my two boys. Okay, so it was 9 years ago. Who's counting?!! The important thing is, I'm almost done with it now! Here's a picture of the basket of lovely colored pansies

There's 41 of those little pansies in that basket. I only need 40, but wasn't thrilled about one of them I had all ready done, so decided to make another one to replace that poor looking little thing.

Here's a picture of the afghan itself waiting for the pansies to be put on. You crochet the pansies on, so there's no sewing involved. The border is actually crocheted around the pansies with very lacy looking stitches.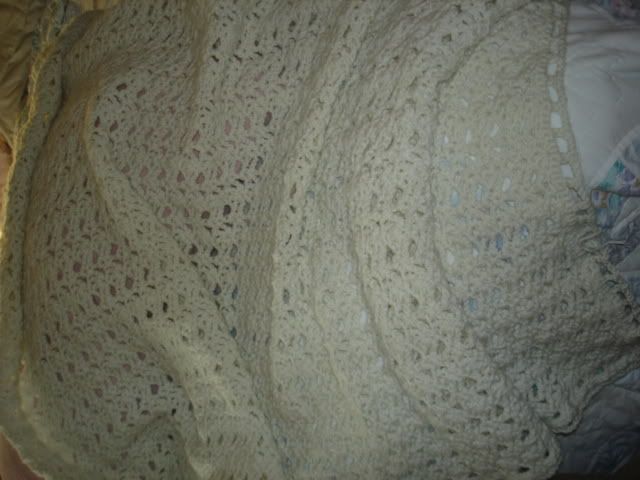 It's so nice to finish up something that has been sitting around for so long. I'll post a picture of the finished project.

On another note. We wondered what had happened with the house behind us. The windows were all boarded up and the lights blazing night and day for a few nights in a row. My hubby thought maybe they were repossessing the house and he wanted to find out. So tonight, we drove over there and instead of seeing a repossession sign, we saw crime scene tape and official notes on the doors saying "Stay Out". We were very surprised, but not as surprised as when we got home and I looked it up on the internet in our local paper. It seems that there was a man shooting up the neighborhood from the windows and then he moved to the roof and began shooting! When the police arrived, they got the man down from the roof, but there was 4 other people in the house. One woman and three men. The woman gave herself up right away, but the men wouldn't. So after a 3 hour standoff, the police threw a non-lethal gas into the house to get them out. They found more weapons in the house!! The newspaper said if your home was damaged from the bullets to let them know.

Okay - I had no idea I should be looking for bullet holes in my home, let alone my cars and trailer! Tomorrow, we go on a bullet hole hunting expedition around here! I told my boys about it and I asked them if they had heard anything. They said, "Yeah, but we thought it was fire crackers." Oh my. I said, "If you hear anything that sounds like gun fire or firecrackers again, please come and tell your Dad and me, okay?" My youngest said, "Well, I asked my brother if he heard that gun fire, but he thought I was crazy and said it was fireworks." *sigh*

When we moved out here, we had NO ONE around us. We live on 10 acres and the land behind us was state land. We didn't realize they would sell that off and create a housing development. It's a nice development, but there have been very wild parties at that house - I mean, all night parties - with the speaker blaring and so forth. I never, ever dreamed we would have to worry about someone trying to shoot us! It's getting too much like living in the big city around here. I'm just so thankful that no one in my family was hurt! I'm still in shock that this happened so close to us and we didn't even know it. We have a very loud air conditioning unit in our bedroom and that's probably why we didn't hear the gun fire. Normally, I would have been on high alert. If I see those people come back, believe me, I'll be more cautious!!

That's enough excitement for this post! Hope all is well in your corner of the world!

God bless you ~ Julie