Yesterday was a trauma, let me tell ya! It started out all right - any normal day. I even got my prayer/bible reading/bible study time in the morning, of all things! I mean, this is a miracle in itself. Sometimes, I don't get it done first thing in the morning, even though I want to and I try! However, things went down hill after that. Nothing earth shattering - no one was hurt or died - it was just a hard afternoon. So instead of dragging you down into my little trauma (or drama, depending on which way you look at it), I'm going to introduce you to my little furry family - the doggie's anyway.
This is Sammy Joe. He's tip-toeing through the tulips, so to speak. Actually, he frolicking through the primrose on our property! Please note the very cocker-spaniel ears flying outward. Isn't that cute?!!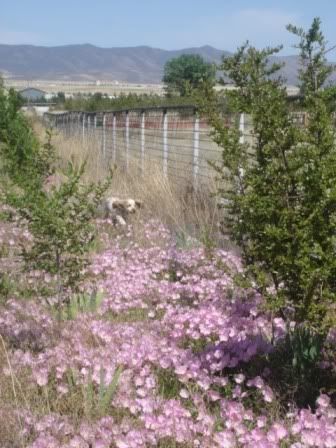 Here's a close-up of Sammy Joe. He's not the easiest dog to take a picture of because he's never sitting still long enough! I believe this picture may have taken me over 5 hours to get, or maybe it just felt that way!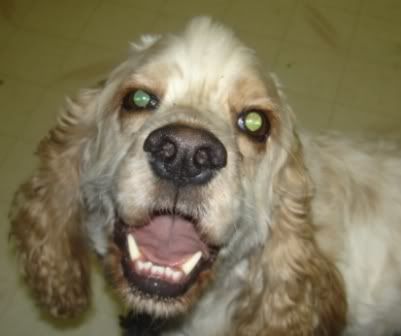 This sweet little face belong to Muffy Marie. She is really my oldest son's dog, but we all love her and she loves us all back - maybe just not as much as she loves my son. She is a Pug - I'm sure you guessed that. Notice the cute, pink tongue protuding out of her mouth. It's usually like this. Sometimes, she gives us a very puggy smile with her lower teeth.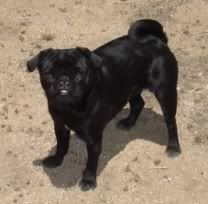 This is Tammy Lou (are you noticing a pattern here? All our dogs have first and middle names which is only right since they are just humans with fur, right?) I know you thought from the side-bar picture, that this was me, but no, this is my beloved poodle. I really consider her my third child and treat her as such. She's adorable, no? My hubby bought me my first poodle when we were married 25 years ago and I haven't been without once since. She is my companion and I just love her so. Yes, she probably does get special treatment. . . but what do you expect? She's a poodle!!!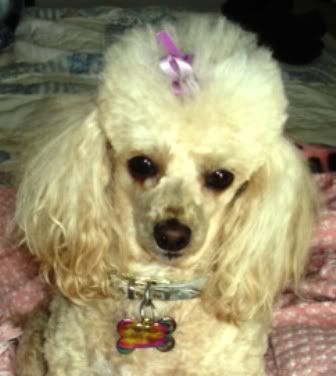 Here's Muffy Marie and Tammy Lou together on my bed. They are really the best of friends and are usually found napping together. I don't think one could get along without the other.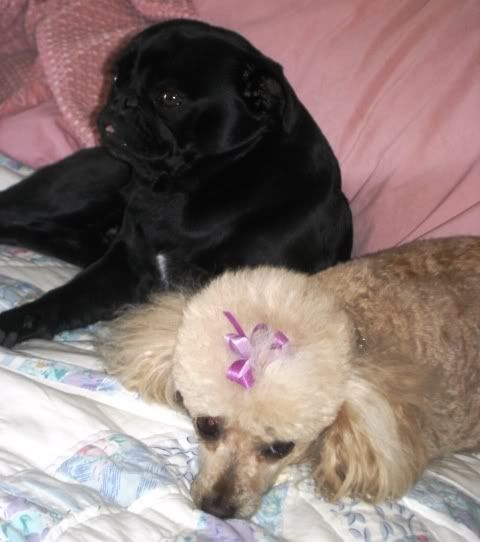 I know my doggies bring me so much joy. They make me feel calm when I've had a trauma and so this was the perfect post for this day!